Trying to find clothes that are cute and "transitional" (ie- I haven't lost all my baby weight yet) post-partum is not fun. No one wants to buy a whole new wardrobe that won't be worn for long, and there are definitely occasions that you want to dress up for (ie- not wear yoga pants and a tshirt) during those weeks/months after giving birth. This has been my life this summer. I am now at the point wear I am fitting into more and more of my regular clothes (with about 7 lbs left to lose) but am now faced with another dressing dilemma.
Nursing/pumping at work clothes
While the above shirt is labeled as nursing wear, it is not something I would wear (ever), nor is it appropriate for someone who has to work in an office and pump three times a day (for the next 9 months of my life). I breastfed Spencer for approx 13 months (wanted to stop at 12 but the darn kid wouldn't drink whole milk at all and the pediatrician said he had to be drinking milk or formula before I could stop nursing), and I'd like to do the same for Peter. I've also come to the point when it's time to head back into work and get out of the comfy yoga pants/maxi dress mode. I don't know how many of you are in similar situations, but I thought I'd put together some ideas of what to wear when you/your precious babe needs access to your lady parts 5, 6, 7 times a day!!
The first thing you need are good nursing tanks. I have some from Target, Old Navy, Gap and Motherhood. The pull down ones from Motherhood I like way more than I expected to, and since they don't have clasps anywhere, you don't have to wear anything layered overtop to avoid it looking like a nursing top.
I wear a tank a few days a week, layered under cardigans, sweaters, and blazers. They keep some modesty (I share an office with 4 other females and they're around while I'm pumping most of the time) and still help me to look pulled together when worn with dress pants and a blazer/sweater. I highly recommend at least two black and two white tanks and then a few colored ones to go under your more neutral cardigans. I find I wear my black and white ones all the time so only having one of each is not enough. Finding time to do laundry mid-week when you are away from the house 45-50 hours a week and have a baby at home is hard, so just make it easier on yourself and have an extra!
Button downs, popovers, or wrap tops are great options when pumping at work or nursing in public. It's easy to be discreet when you only have to undo a few buttons, and the wrap tops allow you to just slide the fabric right under your bra. I actually have the wrap shirt above in two colors (navy and coral from Target) and it's been my go to shirt all summer. It was easy to dress up or down and looks great with accessories, and the ruching on the side helps to hide the post-partum belly. Now that I am almost back to my normal size, it still looks cute on and is completely appropriate for work. I wish they had it in a long sleeve version for this winter!
I love to wear dresses to work. I find that they are super easy in the morning to put on, comfortable to wear throughout the day, and always help me to look pulled together/polished. Many of my "normal" dresses don't work while I'm pumping b/c you can't exactly unzip an entire sheath dress and sit topless in the office, so I've had to find other options. I find the easiest dresses to wear are vneck or crossover top dresses that are made of a modal or cotton/lycra fabric that has lots of stretch.
I have the above maxi from Target in blue. I wear a nursing tank underneath (it's a pretty deep vneck) and it's perfect. While I wouldn't wear this to work (too casual), it's been perfect for maternity leave and weekends. It's really long, so if you are tall, this is definitely the dress to buy!!
While this dress is technically a maternity dress, it's got the stretchy vneck and a darling embellishment at the waist which would be perfect for the first few months of nursing when you are still trying to lose the baby weight. I actually have a maternity dress (Liz Lange, Target) that I bought after Peter was here that I have worn all summer. I just bought one size down and it's a very flowy maxi dress so you cannot tell AT ALL that it is a maternity dress. I love it! At the above price (29.99- Target's website), you can't beat this dress for something that looks pulled together (especially under a cardigan) but feels like you are wearing pjs. Certainly something I would wear post-partum!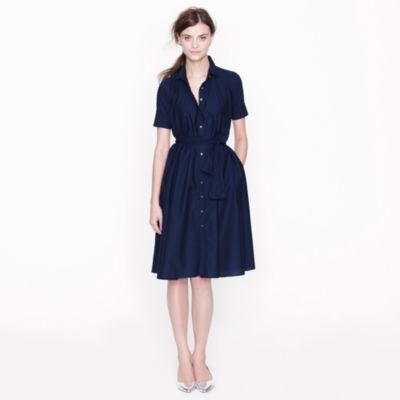 The above dress by JCrew is one that I adore. I actually have an almost identical one from Land's End that I bought when I was doing this two years ago with Spencer. At work, I just unbutton a few buttons while pumping, and off I go. Easy peasy!!
Cute dress from the Loft that has the vneck. This would be adorable with a cardigan over top for work (white for now, navy or gray for fall).
Wrap dresses (above from Banana) are the ultimate nursing dress. I have two in my closet and am always on the lookout for more. These are also great for moms who SAH but who need a great dress for church.
Other tips:
I try to keep a few extra nursing pads in my pumping bag. This way if I forget to put them under my tank or in my bra in the morning, I can deal with that at work.
I don't have a hands free pumping bra, but I have heard they are fantastic. I just use one hand to prop both and then type with my other hand. Most of the time while I am nursing, I tend to get onto my Google Reader anyway, so it's more about perusing than it is about typing. If you are actually needing to type while pumping, I would for sure recommend a hands free bra!
Get a great water bottle for work. Nursing drains me of fluid (literally!) and most people are constantly thirsty. It's easier to remember to drink when you have a cute water bottle at work that makes you happy when you see it.
Does anyone else have suggestions for ladies who are pumping at work? What are your favorite outfits to wear? I'm currently at work in a white VV button down and charcoal slacks, and my outfits this week include a button down dress, a cardigan and tank with capris, a navy wrap top with coral chinos, and a skirt and top (this top will be a little tricky but I'll keep my lab coat on when pumping).
Hopefully this helps someone out there!!